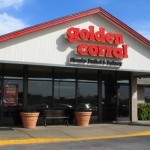 GRETNA – A Jefferson Parish woman is suing a corporately owned buffet in Keener for injuries she claims to have received on its premises.

Shannon Tamburello filed suit against James River Insurance Company, Corral Gulfsouth, Inc. and Golden Corral Buffet & Grill in the 24th Judicial District Court. Tamburello claims that she was dining at the Golden Corral buffet located at 3920 Williams Blvd. in Kenner when she slipped in water that was leaking from restaurant equipment and fell to the floor. The plaintiff alleges that she was permanently injured in the fall.

The defendant is accused of creating an unreasonable risk of harm, failing to use reasonable care, negligently leaving water on the floor, allowing this dangerous condition to go unnoticed by employees, failing to adequately warn the plaintiff of perils, failing to properly inspect or repair the premises, failing to train and supervise its employees and failing to use warning signs or other safety devices.

Damages in excess of $50,000 are sought for pain and suffering, mental anguish and distress, disability, lost wages, loss of earning capacity and loss of enjoyment of life.

Tamburello is represented by Metairie-based attorney Leonard J. Cline.

The case has been assigned to Division P Judge Lee V. Faulkner, Jr.

Case no. 721-360.