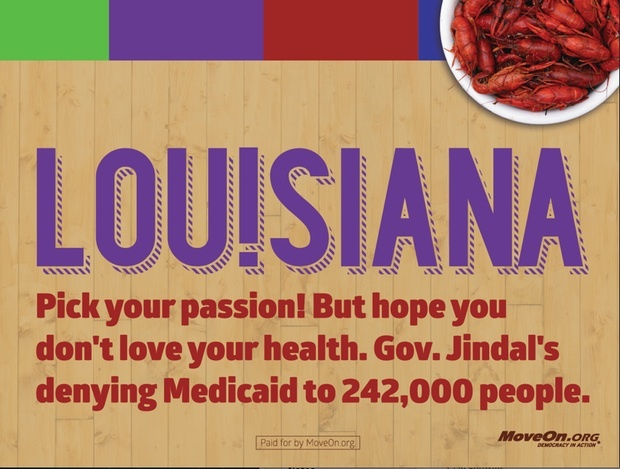 BATON ROUGE – A liberal political action committee is being sued by Louisiana Lieutenant Gov. Jay Dardenne for alleged trademark infringement after the group parodied the state's tourism slogan in a billboard deriding Gov. Bobby Jindal for not accepting federal Medicaid monies.

Dardenne filed suit against MoveOn.org on March 14 in the U.S. District Court for the Middle District of Louisiana.

Dardenne, whose office includes the Department of Culture, Recreation and Tourism, claims MoveOn.org placed a billboard along Interstate 10 in Baton Rouge infringed on Louisiana's trademark "Pick You Passion" tourism campaign by using the slogan and following it with "But hope you don't love your health. Gov. Jindal's denying Medicaid to 242,000 people."

Dardenne alleges that the billboard campaign also closely mimicked other marketing material used in the "Pick Your Passion" campaign and took an image of a plate of crawfish directly from the website of the Department of Culture, Recreation and Tourism. The state argues that the marketing campaign is valuable as it was created by consultants on behalf of the state and have been used in nearly $70 million worth of state tourism promotion and its reputation will be tarnished should MoveOn.org be allowed to continue its misappropriation of the trademark.

After Dardenne issued a cease and desist order to MoveOn.org over the billboard, the state says the group immediately ran a TV commercial featuring the sign, which the group also made available on YouTube.

The defendant is accused of violation of the Lanham Act in regards to trademark infringement.

Dardenne is asking the court to issue a permanent injunction against Move.On.org limiting its use of the mimicked art work, disallowing the use of images taken from the plaintiff's website and the removal of billboards using the questionable materials or the portions of the billboard that imitate the plaintiff's promotions.

Dardenne is represented by Dale R. Baringer and James R. Bullman of the Baton Rouge-based The Baringer Law Firm LLC.

MoveOn.org is being defended by attorneys Stephen G. Bullock, Lesli D. Harris and Matthew S. Almon of New Orleans-based Stone, Pigman, Walther, Wittmann LLC.

The case has been assigned to U.S. District Judge Shelly D. Dick.

Case no. 3:14-cv-00150.