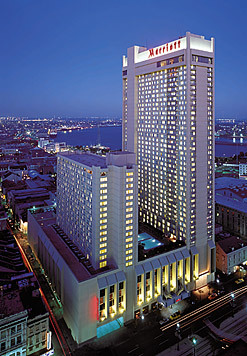 NEW ORLEANS – A local hotel has been sued by woman who claims she severely broke her arm in a fall at its pool.

Jennie Mitchell Harris filed suit against Marriott Hotel Services, Inc., Marriott International, Inc. and their insurer in the Orleans Parish Civil District Court on Sept. 29.

Harris claims on Dec. 5, 2013, she was a patron at the J.W. Marriott located at 614 Canal St. in New Orleans, when she traversed the pool deck, where suddenly and without warning, she allegedly slipped and fell on the drenched deck tiles. The plaintiff contends she sustained a closed fracture of the wrist, radius, left humerus and tear into the biceps tendon.

The defendants are accused of failing to follow the requirements of the Life Safety Code necessitating inspection of pool deck tiles, failing to make the pool deck tiles evenly slip resistant, failing to install slip resistant pool tiles, failing to follow state law, failing to place warning signs around the defective tiles and failing to follow the American National Standard Institute and Pool Institute Standard for public swimming pools.

The plaintiff is seeking an unspecified amount in damages for pain and suffering, disabilities, loss of wages, decline in future income, medical expenses and transportation fees.

The plaintiff is represented by Brian D. Katz of Herman Herman & Katz LLC.

The case has been assigned to Div. J Judge Paula A. Brown.

Case no. 2014-09505.