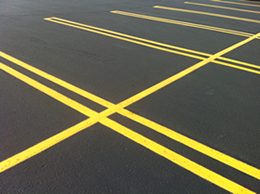 NEW ORLEANS – A doctor is suing a downtown parking services company claiming it was negligent in applying paint that resulted in him slipping in the garage and sustaining a severe ankle fracture.

Monir Shalaby M.D. filed suit against Royal Parking LLC, East Skelly LLC, Jones Lang Lasalle Services Inc. and York Risk Services Group Inc. in the Orleans Parish Civil District Court on Feb. 3.

The plaintiff claims that on Feb. 4, 2014, he was working at Excelth, Inc., and upon leaving his workplace at 6 a.m., slipped and fell on a recently applied patch of paint. The recently applied paint was allegedly applied without the use of a non-slip substance, while the rest of the parking garage was covered with the non-slip aggregate. He asserts that on Feb. 5, 2014, he was diagnosed with a left ankle fracture and recommended to take leave from work for at least a week. After approximately two weeks plaintiff attempted to return to work but had trouble in walking from room to room to visit with patients and conduct examinations. The defendant is accused of failing to exercise proper measures in repairing the premises.

The plaintiff seeks an unspecified amount in damages for past, present and future physical pain and suffering, medical expenses, lost income, future disability and emotional distress.
The plaintiff is represented by Sherif K. Sakla, Stephanie C. Reuther and Alexander M. Sakla of the New Orleans-based Sakla Law Firm, APLC.

This case has been assigned to Division C Judge Sidney H. Cates IV.

Case no. 2015-01022.