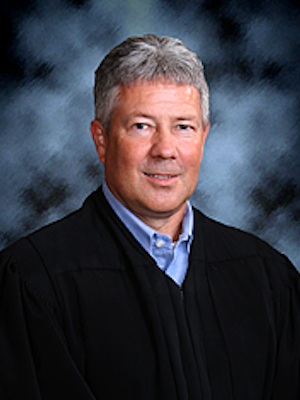 BATON ROUGE—The Louisiana State Bar Association last month honored Judge Terry A. Doughty of the Fifth Judicial District Court with a Citizen Lawyer Award for going above and beyond the requirements of his public service.
Doughty has been a member of the Louisiana State Bar Association (LSBA) since October 1984. He became a district judge on Jan. 1, 2009, following a long career split between the district attorney's office in the Fifth Judicial District, and practicing with the firm of Cotton, Bolton, Hoychick & Doughty LLP.
Created in 2001, the Citizen Lawyer Awards—originally known as the Crystal Gavel Awards—give special recognition to those lawyers and judges who have actively aided their communities. Recipients are nominated by colleagues in the LSBA for exceptional service.
In the case of Doughty, this included work with the three parishes comprising his district: West Carroll, Richland and Franklin. Therein, he has built up the Fifth Judicial District's drug court programs and Celebrate Recovery programs. What's more, and the reason for which attorney John Clay Hamilton nominated him, he and the two other judges in his district regularly travel to West Carroll Parish on days off to perform any duties there requiring a judge.
West Carroll Parish currently has no sitting judge. Though it is within his district, the additional duties to which he applies himself are beyond any requirement of his office.
When asked by the Louisiana Record about what inspires such efforts, however, Doughty noted it as a perk of his position.
"We are public servants," Doughty told the Louisiana Record. "We are in a unique position to help people. I never cease to be amazed at how many judges spend a great deal of time doing extra things outside their normal job duties."
Yet what sealed his award was his dedication to the Fifth Judicial District's drug court, an administrative role for which he receives no compensation. Though Judge Glen Strong started the court 17 years ago, Doughty took over after Strong retired. The story behind Doughty's dedication lies in the judge's own family history.
"I grew up in an alcoholic home and have seven generations of alcoholics on one side of my family," Doughty said. "I know how hard it is to overcome addictions. I believe at least 75 percent of crime is directly or indirectly related to alcohol and drugs. I believe drug courts are the best thing we have to help alcoholics and drug addicts become productive members of society. I encourage every judge to consider starting a drug court if their district does not have one."
Celebrate Recovery—a faith-based program for overcoming addiction—acts as a complement to the district's drug court. Under Doughty's tenure, the program has spread from Richland Parish to West Carroll and Franklin parishes as well.
The Citizen Lawyer award was presented on Doughty's home turf, at the Fifth Judicial District Courthouse, by LSBA house of delegates member John Hoychick Jr.
The LSBA, which includes more than 21,000 members, is a statewide association dedicated to the promotion and maintenance of justice, upholding the honor of the courts and the legal profession, supporting programs that increase public understanding of the law, and assisting the Louisiana Supreme Court in legal regulation.