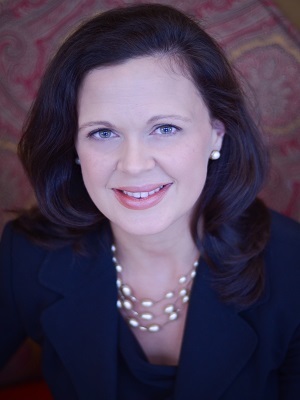 LLAW Executive Director Melissa Landry (Photo by Christopher Bond.)
BATON ROUGE—State legislators must put partisan politics aside if the Pelican State hopes to climb out of its "judicial hellhole," the executive director of Louisiana Lawsuit Abuse Watch (LLAW) recently told the Louisiana Record.
"Regardless of party affiliation, we all have to work with the new administration to bring fairness and balance our courts," LLAW Executive Director Melissa Landry said. "Without significant and meaningful reforms, Louisiana will continue being labeled as a judicial hellhole, and our already torturous legal climate will continue to deteriorate. Simply, we cannot afford to wait."
LLAW is a non-partisan, non-profit, citizen watchdog group that focuses on civil justice issues in the state. Since Landry became executive director in 2008, LLAW's numbers have swelled to more than 6,000 who work to raise awareness about the costs and consequences of lawsuit abuse.
Landry will take her message about bipartisan tort reform in Louisiana before a dinner gathering of the Pachyderms of Greater Baton Rouge on Thursday. The Pachyderms of Greater Baton Rouge, founded in 2005, is a Republican organization and a local chapter of the National Federation of Pachyderm Clubs.
Louisiana Republicans interested in passing any legislation will have to do it with a Democrat newly elected to the governor's office. Gov. John Bel Edwards won November's runoff with a sizable lead, 56.1 percent of the vote, over Republican Sen. David Vitter, making Edwards the first Democrat to win a statewide election in Louisiana since 2008.
Landry's planned topic at the Pachyderms of Greater Baton Rouge gathering is, "The Louisiana Judicial Hellhole: Will we ever climb out?"
"I will discuss new national rankings that consistently rank Louisiana's legal climate as one of the worst in the county," Landry said. "Then I will discuss some of the factors that contribute to the negative perception of our state as a judicial hellhole."
Landry's target audience is anyone, regardless of party affiliation, who will support real tort reform in the state.
"Louisiana Lawsuit Abuse Watch is a grassroots watchdog group; we are non-partisan; and we welcome supporters of all stripes and any party affiliation," she said. "Anyone who supports our mission to fix the state's broken legal system through transparency, accountability and lawsuit reform is considered a key supporter in my book."
To point up the importance and urgency of tort reform, Landry offered as an example the case of Mike Carter, owner of Monroe Rubber and Gasket in Monroe. Carter faced more than 100 asbestos lawsuits filed against his family-owned business by more than 2,680 plaintiffs in a period covering more than a decade. Carter spent millions defending against those lawsuits, all of which were dismissed without merit.
Carter is far from alone in his situation, which extends cost not only for litigants, Landry said.
"Just as troubling is the fact that excessive litigation also translates into higher home and auto insurance rates," she said. "Most Louisiana drivers can relate to the feeling of money pouring out of our pockets and bank accounts, as we are consistently forced to pay some of the highest insurance rates in the nation."
It's the small businesses and individual taxpayers who ultimately suffer.
"Obviously, if a small business or individual does something wrong, they should be held accountable," Landry said. "But all too often, small businesses and individuals are unfairly targeted by aggressive lawyers trying to score a big win. That's not justice. That's greed - and we can't afford it."
The Pachyderms of Greater Baton Rouge's meeting is scheduled for 6:30 p.m. Thursday at Grand Asian Buffet at 3132 College Drive in Baton Rouge. Pachyderm meetings are open to the public and guests are welcome. Attendees order and pay for their own meal. Reservations are requested. Those interested may RSVP at 225-644-5728 or e-mail info@pachydermsofgbr.org