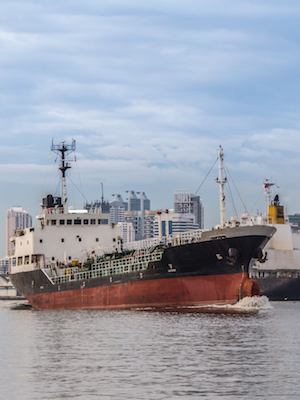 NEW ORLEANS – A Jones Act Seaman who suffered an accident alleges that the owner of the vessel upon which he worked breached its duty to provide a safe working environment.
Christopher L. Johnson Sr. filed a lawsuit on March 30 in the U.S. District Court for the Eastern District of Louisiana against Chem Carriers LLC over alleged negligence and breach of imposed duty.
Johnson asserts that he was employed by the defendant as a seaman aboard its vessel Brooke Banta on or about Jan. 6. On that same day, Johnson allegedly experienced an accident that rendered him unfit for work and caused him serious painful injuries to his left shoulder, neck, back and other parts of his body. He alleges that defendants were negligent and breached their legal duty to provide reasonable care and a safe place to work. He also claims that the defendant failed to properly trained and supervise him, failed to take any means of care and safety for its crew, created and maintained an unseaworthy ship, failed to provide adequate personnel and equipment, and failed to provide the bare minimum of safety.
Johnson also claims that, due to the accident rendering him unfit for work, defendant has the responsibility to provide him with maintenance and cure benefits until maximum cure is reached.
He is now asking the court for all damages he is entitled to recover, including punitive damages; for past, present, and future adequate maintenance and cure benefits; for the cost of the suit, and any other rewards deemed just by the court. He is requesting a jury trial and is represented by Timothy J. Young, Tammy D. Harris, Megan C. Misko and Daniel J. Poolson Jr. from The Young Firm in New Orleans.
U.S. District Court for the Eastern District of Louisiana Case number 2:16-cv-02573-KDE-SS