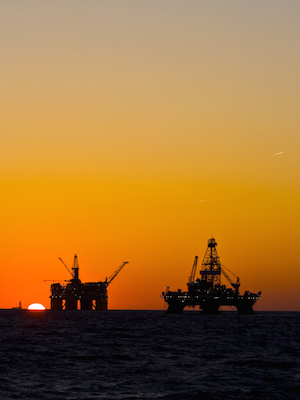 CHALMETTE — The St. Bernard Parish Council is expected to vote on Tuesday on whether to allow St. Bernard Parish President Guy McInnis and a controversial law firm to potentially file a lawsuit on behalf of the parish against oil and gas companies for alleged coastal damage and land loss.
The upcoming vote has sparked concern with a Louisiana legal watchdog group and garnered a response from the state's attorney general.
McInnis, signed a contract with the Talbot, Carmouche & Marcello law firm, which donated $15,000 to his election campaign, to represent the parish.
"The council is going to decide whether or not they are going to file suit, and I am just kind of on the sidelines waiting on them at this point," McInnis told the Louisiana Record.
As far as the controversy surrounding the Carmouche Marcello law firm campaign contributions, McInnis said the decision to hire the firm does not rest with him.
"I understand (the criticism), but I am not making the decision," McInnis said. "So we get some negativity on that; but this council is seven council members, and (is) going to make that decision on who to hire and whether or not we file suit."
The decision on how to proceed lies solely with the council, he added.
"We passed a resolution to hire an attorney to possibly file suit, but if the recommendation from the parish president was going to be to file suit the council was going to have to approve it," McInnis said.
In 2013, McInnis, as a councilman, presented a motion that was later approved by the St. Bernard Parish Council permitting former President David Peralta to sign a similar contract with Talbot, Carmouche & Marcello. Peralta, however, never signed the contract because he didn't believe a lawsuit against the oil and gas industry was good for the parish, and it languished for two years until McInnis signed it upon taking office.
St. Bernard Parish Council member Kerri Callais presented the motion to vote on pursuing the lawsuit. Callais did not respond to requests for comment.
Melissa Landry, executive director of Louisiana Lawsuit Abuse Watch, said the rush to make a decision to hire the law firm is troublesome.
"Given the magnitude of what is at stake, it is surprising that Councilwoman Callais is pressuring her colleagues to vote on this controversial item tomorrow," Landry told the Louisiana Record on Monday. "At the very least, the council should be given a couple more weeks to get feedback from their constituents before making such a critical decision that will impact the parish for many years to come."
Landry said residents in St. Bernard Parish should be concerned about the motives behind a possible lawsuit.
"After all, residents and small businesses across St. Bernard are already being pinched by a significant slowdown in the energy sector," Landry said. "I cannot imagine that a move like this would help, so residents have a right to be concerned and their voices ought to be heard."
St. Bernard Parish Councilman Nathan Gorbaty weighed in on the issue and said he will not be supporting the lawsuit.
"My feeling is that we are jumping the gun on this, and we need to slow down," Gorbaty told the Louisiana Record. "I am going to vote against this lawsuit. If you want to know where I stand, I am going to vote against this right now. I just think it is the wrong time. I don't think we should be kicking an industry while they are down first of all after thousands of jobs have been lost also."
Gorbaty said he set up a town hall hearing with the Louisiana Mid-Continent Oil and Gas Association for later this month, but once the council became aware of the town hall hearing "they put this thing up on the agenda to get voted on."
"I am against it and I am not going to be voting for it anytime soon at least until we talk to the (Attorney General) to find out what he is planning on doing," Gorbaty said. "He hasn't had a really structured, detailed thing of what he is going to do. He just said the state is looking into taking it over moving forward and that is it. I really want to sit down with him and find out what the ultimate plan is."
Based in Baton Rouge, the Talbot, Carmouche & Marcello law firm is known for pursuing controversial "legacy lawsuits" on behalf of landowners against oil companies. More recently the firm has turned its attention toward signing up coastal parishes as clients.
The coastal lawsuits have become so prominent in the state that Louisiana Attorney General Jeff Landry's office addressed the issue in an email today to St. Bernard Parish and other parishes, encouraging parish leaders to set aside dates to meet and discuss their concerns with Landry on April 12 and 13.
"Understanding that your parish may be represented by counsel, engaged in a lawsuit, or seeking representation at this time, the Attorney General encourages you to bring your Attorney or Attorneys to this meeting," the email stated. "He also encourages you to discuss this meeting, and your possible attendance, with your legal representatives."
Last month, the Louisiana Attorney General's office filed motions to take over coastal lawsuits and intervene in 39 state court lawsuits filed by Cameron, Jefferson and Plaquemines parishes against numerous oil and gas companies.
"This intervention will ensure that the collaborative work of the State and Parishes on coastal restoration is not threatened with continuous, fragmented lawsuits," a news release from the Louisiana Attorney General's Office stated. "It allows these issues to be addressed in totality and in a fair, consistent manner."
Talbot, Carmouche & Marcello law firm, along with two other law firms, previously filed a lawsuit against several oil companies on behalf of Plaquemines Parish. The move surprised parish residents and polarized the community since the community's economy relies largely on oil exploration and extraction efforts. Residents spoke out against the lawsuit and accused litigators of being motivated by greed instead of the well-being of the community. A new parish council voted to withdraw the lawsuit last November.
McInnis, however, insists the law firm would stand the best chance of representing and protecting St. Bernard Parish residents.
"(When) I came into office, I felt this council needed someone to represent them in interest to some of these lawsuits that are being made in other communities, that St. Bernard be protected and have someone ready on the bench if they needed someone on the bench like in a basketball game," McInnis said.