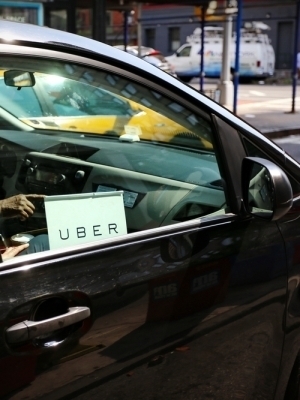 NEW ORLEANS — Taxicab drivers in Jefferson Parish recently fired a legal salvo in their ongoing dispute with the ride-sharing service Uber.
Nineteen taxi drivers in the parish, which is part of the New Orleans-Metairie metropolitan area, filed suit against eight individual UberX drivers on Feb. 29 in the 24th Judicial District Court in Gretna. A hearing before Judge Ellen Kovach is set for March 16.
"The lawsuit filed against driver partners by the taxi industry is just underway," Tom Hayes, general manager of Uber Technologies in New Orleans told the Louisiana Record recently. "To our knowledge, many of the driver partner defendants have not been served."
Plaintiffs seek class-action status, claiming that thousands of UberX drivers are deliberately undercutting regulated taxi drivers by charging lower fares. Approximately 2,000 UberX drivers operate in Jefferson Parish, according to the lawsuit.
In addition to asking for injunctive relief, the taxi drivers allege that the Uber drivers are: not obtaining properly issued certificates of public necessity and convenience; not being fingerprinted and subjecting themselves to required background checks; not being drug-tested before carrying passengers; not taking the required written exam; not obtaining legally required insurance; and are reducing fares during slow periods to undercut taxi drivers.
Parish officials contend that UberX drivers and car owners violated local ordinances regarding vehicles for hire, including provisions for permitting, inspections, taxi meters and charging unregulated fares. Violating the misdemeanor ordinance can result in a $500 fine, six months in jail or both.
"We do not believe the current local ordinance in Jefferson Parish contemplates or applies to transportation network companies (TNCs)," Hayes said. "By contrast, there is a specific ordinance in New Orleans and a state law regarding insurance requirements for TNCs. The office of the mayor of New Orleans recently came out showing that we were following the requirements of this ordinance."
A previously filed Jefferson Parish lawsuit against Uber has been postponed until May as the two sides negotiate. Parish Attorney Deborah Foshee is optimistic about settling the suit.
"We have never been anti-Uber," she recently was quoted in the New Orleans Advocate as saying. "What we want to do is make sure we have a set of rules that creates a level playing field with the rest of the commercial driving industry."
The relationship between taxi and UberX drivers has been contentious since Uber entered the southern Louisiana market in 2014. Uber currently operates in New Orleans, Baton Rouge, Lafayette and Saint Tammany Parish. Cab drivers in New Orleans filed an earlier lawsuit similar to the one in Jefferson Parish. That case has not yet gone to trial.
Hayes expects the legal wrangling ultimately to work out to the benefit of consumers.
"Recently, Mayor (Mitch) Landrieu's office in New Orleans released a report showing that we increased the number of overall customers utilizing for-hire transportation," he said. "We look to provide more and more options for locals and tourists alike to get safely and reliably around New Orleans every day."