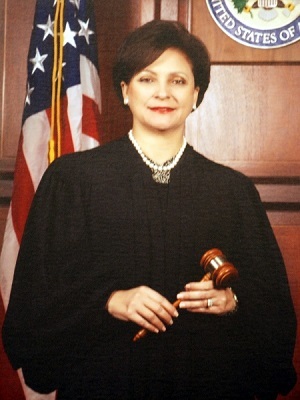 U.S. District Court Judge Nannette Jolivette Brown
The U.S. District Court for the Eastern District of Louisiana denied in part and granted in part an insurance company's partial motion to dismiss after it allegedly denied insurance coverage.
"Plaintiff has not plead any facts in support of its assertion that it is a third-party beneficiary to the contract between Lexington and AIG Claims," U.S. District Court Chief Judge Nannette Jolivette Brown ruled on Jan. 7. Therefore, it gave the plaintiff more time to amend the complaint, instead of dismissing it altogether.
Hammerman & Gainer LLC sued for damages it said it suffered after it was denied insurance coverage under a "Miscellaneous Professional Liabilities Policy" that Lexington Insurance Co. gave it. The plaintiff sued Lexington and AIG Claims Inc., arguing the policy would require Lexington to defend Hammerman & Gainer "against alleged wrongful acts of [plaintiff] resulting from any alleged or actual error, omission, negligence, misstatement or misleading statement, and/or breach of duty unintentionally committed for whom [plaintiff] is legally liable relating to the rendering of professional services to persons," according to the lawsuit.
Hammerman & Gainer signed on to an Administrative Services Contract with New Jersey that was supposed to be valid from May 8, 2013 through May 7, 2016. Under this agreement, the plaintiff was supposed to manage a relief process for New Jersey after Hurricane Sandy. To do this, it hired subcontractors such as Veteran Call Center and Veteran Contract Center (both known as VCC).
Representatives for the state expressed disappointment with the plaintiff's or its subcontractor's work and decided not to pay them. They went on to arbitration and settled for a percentage, and a portion of that was given to VCC. VCC then filed a lawsuit against the plaintiff for $690,000 in unpaid invoices.
At that point, the plaintiff said it tendered the claim for Lexington to defend, who then turned it over to AIG Claims. AIG Claims determined the liability policy didn't include coverage for the plaintiff in this matter. The plaintiff then sued for the money spent to defend itself in the lawsuit as well as attorney's fees.
The defendants have asked the court to dismiss AIG Claims from the lawsuit altogether and for the third-party beneficiary claim to be dismissed against Lexington.
Defendant argues the plaintiff also failed to plead facts that proved AIG committed fraud and gave it incorrect information concerning the claim moving forward. The plaintiff, it is argued, sued AIG Claims because AIG Claims was acting on behalf of Lexington. Considering this, the court noted that the plaintiff couldn't determine whether it should sue AIG Claims until it has reviewed the contract AIG Claims had with Lexington. The court also granted the plaintiff leave to amend this part of the complaint as well.
Meanwhile, the court dismissed the oblique portion of the lawsuit against AIG Claims because the plaintiff couldn't actually show a vital part of the oblique action. Amending this claim wouldn't be valid as the plaintiff has already said it wouldn't be able to provide enough evidence to back its oblique claim.