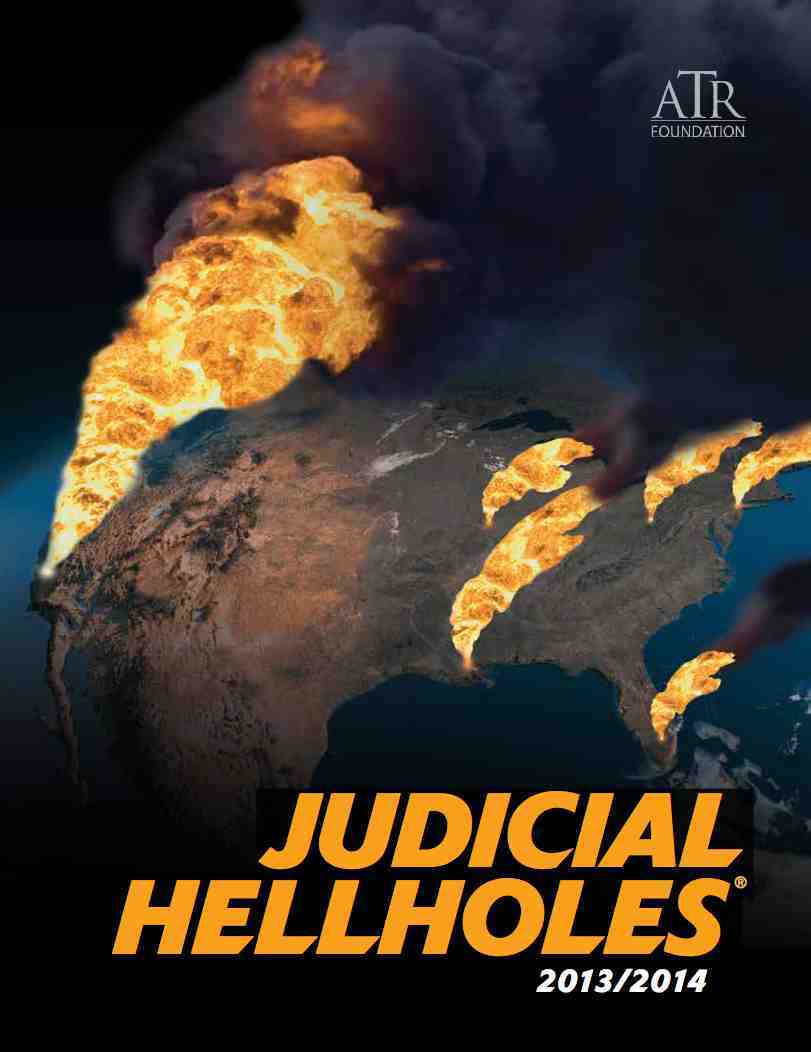 (This article has been updated)

BATON ROUGE – The annual Judicial Hellhole report from the American Tort Reform Association has propelled Louisiana to a top spot on the list of the country's most unfair legal systems.

The American Tort Reform Association (ATRA) has been compiling the annual list since 2002 that focuses on jurisdictions that are seen as unfair, unbalanced and generally overly friendly to plaintiffs. While last year Louisiana was last on the Judicial Hellhole watch list it has shot up to the number two spot this year. In earlier years of the report Louisiana ranked near the top of the list, but in latter years it had dropped significantly before returning to the top of the list this year.

Melissa Landry, executive director of Louisiana Lawsuit Abuse Watch, said the return of Louisiana to the top of the list is concerning.

"Sadly, Louisiana has most certainly earned the awful Hellholes ranking this year," said Melissa Landry, executive director of Louisiana Lawsuit Abuse Watch. "Gross abuses and questions of corruption have created an unpredictable lawsuit environment that threatens Louisiana's long-term economic competitiveness and undermines the legitimacy of our entire legal system."

Louisiana's change in status as one of the most egregious Judicial Hellholes is based largely on the multi-billion dollar lawsuits brought by the Southeast Louisiana Flood Protections-East, as well as Jefferson and Plaquemines Parishes, against nearly 100 oil, energy and pipeline companies over alleged damages to the wetlands caused by dredging canals and pipelines construction they claim has led to coastal land loss and the increased vulnerability of hurricane damage and flooding in the New Orleans metro area.

The report also comments on Attorney General James "Buddy" Caldwell's reliance on contingency fee plaintiffs' attorneys who are known campaign contributors to pursue cases on behalf of the state including against major pharmaceutical companies and BP for damages from the 2010 BP Gulf oil spill.

In addition to new developments in the state's legal climate the issue of 'legacy lawsuits' – lawsuits where current owners of land sue oil and energy companies accusing pollution on land that was formerly used for energy production. Despite attempts by the Louisiana legislature, including the passage of two laws aimed at capping payouts in lawsuits seeking remediation on those lands and eliminating punitive damages, a Louisiana State Supreme Court precedent reversed efforts by lawmakers in a ruling earlier this year.

Lastly, the ongoing battle between BP and U.S. District Judge Carl Barbier and Court Supervised Settlement Program (CSSP) administrator Patrick Juneau over damage claims from the 2010 BP oil spill that BP alleges are going to businesses who can show little to no evidence of the oil spill directly affecting their businesses. An appeals court earlier this year required the business economic loss procedure to be revamped. In the meantime, payments to most businesses, including those with verifiable claims, have come to a halt while the settlement process is being reworked.

Also, ex-FBI director Louis Freeh, an independent investigator hired by the court, released a report earlier this year implicating at least one attorney working within the CSSP, alleging Lionel Sutton, had an improper relationship with a plaintiffs' firm and received a referral fee that was funneled to him in what Freeh called a 'money laundering scheme' through a separate business he owned.

Landry lamented the judicial system's slide in the rankings, especially when it comes to the potential economic effect on the state.

"This jarring reputation as a Judicial Hellhole should concern every policymaker and citizen in the state," she said. "Louisiana has been called out on the national stage numerous times for its poor legal climate, and whether we like it or not, reputations matter. The perception of a state's legal climate affects how companies do business, and where they decide to invest and create new, well-paying jobs."

Landry called for judicial reforms from the Louisiana legislature to change state's legal environment.

"Right now, Louisiana is experiencing unprecedented economic growth due to the historically low price of natural gas," Landry said. "But how much are we leaving on the table because of our poor legal climate? And what happens when the growth spurt is over? We need to pass positive reforms now to improve the legal climate and create an environment that encourages investment and creates long-term, sustainable economic growth."

Click here to see the full report.