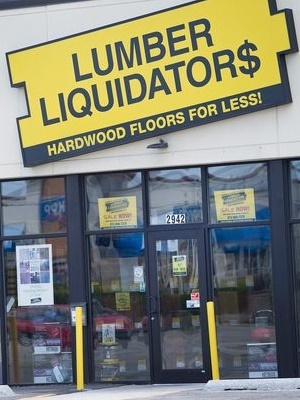 NEW ORLEANS – Lumber Liquidators is being taken to court again over the import of certain allegedly hazardous flooring.
Daniel Skehan and Jeffery Lee Larkins filed a lawsuit on March 1 in the U.S. District Court for the Eastern District of Louisiana against Lumber Liquidators Inc., Lumber Liquidators Leasing LLC, Lumber Liquidators Holdings Inc. and Lumber Liquidators Services LLC, alleging breach of warranty, unjust enrichment and negligent misrepresentation.
According to the suit, the plaintiffs purchased approximately 711.16 square feet of St. James Vintner Reserve flooring from the hardware company on Oct. 17 and Oct. 21., 2013, for $972.66 under the assumption that flooring was manufactured at a laminate mill in China. Plaintiffs assert that Lumber Liquidators represented itself as negotiating directly with the mills, which allegedly eliminated the middleman and passed the savings on to the customers. Lumber Liquidators allegedly further represents itself as an environmentally conscientious company, issuing labels on the flooring reading "California 93120 Phase 2 Compliant for Formaldehyde."
The plaintiffs insist that the flooring has allegedly been discovered to emit dangerously high levels of formaldehyde, so much so that it supposedly surpassed the allowable limits. The plaintiffs argue that the defendants knew about the excess levels of gas emissions, and yet continued to manufacture, market, and sell the laminate flooring to consumers. They allege financial damages due to the defendants' alleged unlawful misrepresentation.
They are now seeking compensatory damages, equitable and/or injunctive relief, payment for the cost of the suit including reasonable attorney fees, interests and any other relief deemed just by the court. They are requesting a jury trial and are represented by Stephen J. Herman, Russ M. Herman and Leonard A. Davis from Herman, Herman & Katz LLC in New Orleans.
U.S. District Court for the Eastern District of Louisiana Case number 2:16-cv-01765-SM-MBN