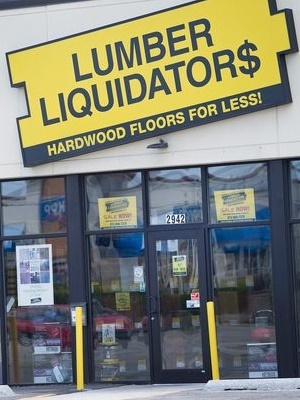 RESERVE – A law firm in Reserve now represents six complaints in the mounting class-action lawsuit against Lumber Liquidators, the embattled floor makers accused of selling Chinese-made laminates containing dangerous levels of formaldehyde.
The Becnel law firm has filed two separate lawsuits in Baton Rouge federal court – one on behalf of Benjamin Turner of Baton Rouge, the other on behalf of Earl and Shirley Wells of Baker and Theresa DeVillier of Slaughter, attorney Salvadore Christina Jr. told the Louisiana Record. That brings the total to six cases Becnel is handling under this class action. Some cases have single plaintiffs while others have multiple complainants.
"What we are hoping for is to get enough money to compensate our clients for being able to have the existing flooring removed and replaced with something equivalent. If that means taking up the baseboard molding and replacing it along with the flooring, then that has to be included," said Christina, who is among the Becnel attorneys handling the allegations that Lumber Liquidators violated the Magnuson-Moss Warranty Act, the Louisiana Products Liability Act, and the Unfair Trade Practices and Consumer Protection Law.
More than a year ago, investigative reporters exposed alarming formaldehyde levels in laminate flooring sold by Lumber Liquidators, which sparked a string of investigations and lawsuits. Although it is common for formaldehyde to be used in manufacturing laminate flooring, the amount used is intended to evaporate quickly and thus not pose any health risk to people living in homes where the floors have been installed.
Tests on some flooring that Lumber Liquidators obtained from China revealed the chemical would still be present after being installed in a home. Health officials contend prolonged exposure to formaldehyde has been linked to complications ranging from nausea to increased cancer risk. The U.S. Centers for Disease Control has said that the health risk of the laminate would cause six to 30 cancer cases per 100,000 people.
At least 138 lawsuits across the nation have been filed and consolidated into multidistrict litigation (MDL) in federal courts. Typically, MDLs are created when a large number of lawsuits make similar claims. In an MDL, one judge oversees all of the lawsuits rather than having them proceed individually in different courts. The judge for the Lumber Liquidator class action is Anthony Trenga of the U.S. District Court for the Eastern District of Virginia.
How much money can consumers joining the class action expect to receive?
In October 2015, Lumber Liquidators agreed to pay more than $10 million to the Department of Justice's Environment and Natural Resource Division. That pot of money does not provide compensation to people who own the company's flooring because the settlement was reached to resolve criminal charges related to accusations that the company imported flooring from foreign suppliers that were harvesting more timber than their permits allowed.
Compensation for people who bought the flooring "really depends on what happens with the class-action lawsuit in court," Christina said, adding that for Louisiana consumers what's important at this point is that the filing of a class action suspends the statute of limitations. Prior to the filing, anyone in Louisiana who purchased laminated flooring from Lumber Liquidators would have had to file a complaint within one year.
"In some states, the statute of limitations is two years or three years," Christina said. "Although this is filed in federal court, the rules of each individual state apply. So for Louisiana, the one year statute of limitations is interrupted."
On March 18, Lumber Liquidators entered into a settlement agreement with the California Air Resources Board to resolve investigations there. The company agreed to pay $2.5 million to CARB and implement voluntary measures, including a risk-based supplier audit program and a testing research program.
According to CARB, the settlement amount was based on $10,000 per day for each day that Lumber Liquidators allegedly sold the laminated flooring in California without taking "reasonable prudent" precautions to ensure that the products complied with state emissions standards.