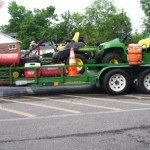 NEW ORLEANS – A local landscaping company is being sued by a former employee claiming his termination breached an oral contract made between himself and White Dove.

Christopher Washington filed a lawsuit against White Dove Landscaping in the Orleans Parish Central District Court. The plaintiff claims that defendants breached an oral contract of employment by terminating him without any serious grounds of complaint. He further avers he is owed $2,184 for supplementation for eight weeks of labor.

The defendant is accused of wrongful termination and breach of contract.

The plaintiff is seeking $2,184 for labor plus legal cost and reasonable attorney's fees.

Washington is representing himself.

This case has been assigned to Division N Judge Ethel S. Julien.

Case no. 2012-10312.