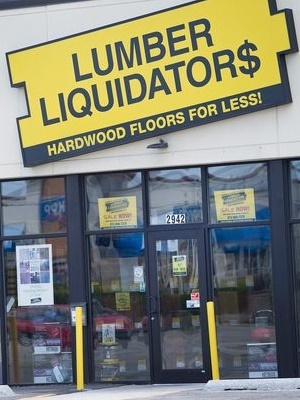 NEW ORLEANS – Several residents of Louisiana claim that a lumber company has deceived and sold Chinese flooring that was defective and leaked a harmful gas.
William Banner, Roland Bartley, Samantha Bechel, Stephen Champion, Rynelle Joseph, Doreen McCrary, Daniel Nunez, Merlin Schwartz and Bartholmew Vandrell, individually and on behalf of those similarly situated, has filed a class-action suit against Lumber Liquidators Inc. on March 2 in the U.S. District Court for the Eastern District of Louisiana, citing violation of the Louisiana Products Liability Act.
The plaintiffs assert that the defendant created a scheme to import, advertise and sell Chinese-made wood flooring that failed to comply with relevant industry standards and applicable formaldehyde regulations. Formaldehyde is a gas which is categorized as a carcinogen by the U.S. National Toxicology Program and the International Agency for Research on Cancer, the suit states.
The plaintiffs claim that the emission of the dangerous gas from the flooring surpasses the maximum limits permissible by law. The plaintiffs allege that Lumber Liquidators knowingly and/or willingly deceived and misrepresented the products and, through the alleged illegal acts, have financially harmed consumers who have purchased the flooring, which is now worth less than the purchasing price.
They are now suing for compensatory damages or, alternatively, statutory damages; exemplary damages; the cost of the suit including attorney fees and pre- and post-judgment interests; and any other relief deemed just by the court. They requesting a jury trial and are represented by Kevin Klibert, Salvadore Christina Jr. and Matthew B. Moreland from Bencel Law Firm LLC in Reserve. Plaintiff McCrary is represented by Morris Bart in New Orleans.
U.S. District Court for the Eastern District of Louisiana Case number 2:16-cv-01792-SM-KWR