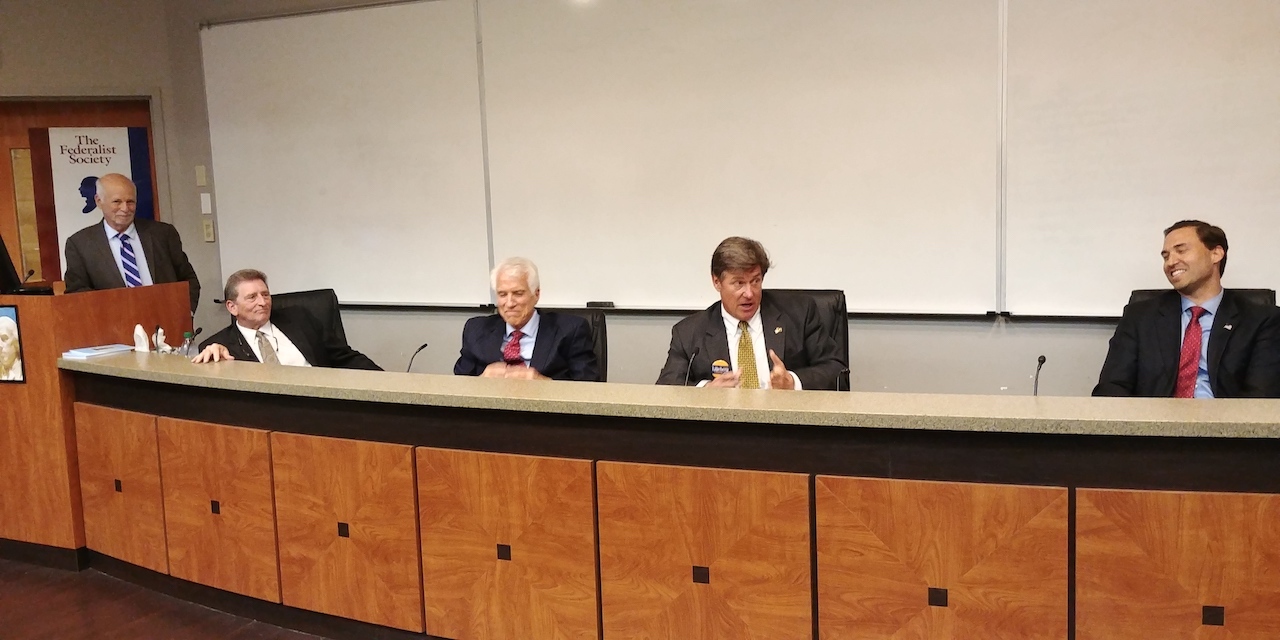 From left to right are: Moderator James E. Viator, Loyola professor of law; Judge William Crain; Attorney Richard Ducote; Judge Hans Liljeberg; and Judge Scott Schlegel. | Dion M. Harris
NEW ORLEANS — Privacy, search and seizure law, the separation of powers, and methods for interpreting state law were explored by the four candidates vying for a seat on the Louisiana Supreme Court during a gentlemanly discussion at Loyola School of Law on Wednesday.
First Circuit Court of Appeals Judge William Crain, Covington attorney Richard Ducote, 5th Circuit Court of Appeals Judge Hans Liljeberg and Jefferson Parish District Court Judge Scott Schlegel discussed varying aspects of the law before a group of two dozen students and faculty.
The Federalist Society of New Orleans Lawyers Chapter and the Loyola New Orleans Student Chapter co-hosted the forum.
"We have a civilian tradition," Liljeberg said. "We're a touchstone to look at precedent and to look at cases,"
Noting how easy it now is to research case law, Liljeberg then took a shot at Ducote's age, in the only remotely tense exchange during the afternoon event.
"We had books," Ducote said in a measured tone.
"I thought you had tablets," Liljeberg said with a smirk. "I will always look to the statute. I will always follow the precedent of the Louisiana Supreme Court. I will follow the law, in a good civilian way."
Schlegel said all analysis should begin by looking at the law.
"When there is ambiguity, what do you do?" he asked. "We look to the law."
The District 1 candidates took questions from law professors John Baker, now retired from Louisiana State University, and Dane Ciolino, who teaches in the Loyola College of Law. The panel was moderated by James E. Viator, an Adams & Reese distinguished professor of law at Loyola.
The three judges and longtime lawyer square off on Oct. 12 in a special election to fill the vacancy created when Justice Greg Guidry resigned to advance to the U.S. District Court for the Eastern District of Louisiana in June. District 1 covers the Northshore, Jefferson Parish and Lakeview. All candidates are Republicans.
The race has garnered substantial financial interest from super PACs and secret money groups. Americans for Prosperity has put a six-figure budget behind Schlegel's race and Citizens Fighting Crime, a PAC funded by Louisiana trial lawyers, is buying television ad time for Liljeberg.
"There's no such thing as overruling a precedent," Crain said. "You either follow the rules...or you don't. I do."
Regarding search-and-seizure law in the state, Crain said "We should follow it closely until we deviate," a response that Liljeberg joked was a "two-handed lawyer answer."
Louisiana allows a broader definition of "standing" for citizens accused of rights violations than the Fourth Amendment does. Ducote said this right to privacy is set forth in Article I, Section 5 of the state constitution.
Compared to the United States, state judges in Louisiana are "free to expand (citizen) rights far beyond what's given in the federal constitution," Ducote said. "However, we can't provide less rights."
The ever-growing role of technology in society will make for some inevitable challenges in the state Supreme Court, all candidates acknowledged.
"If you need to know where it is going, read the dissent," Schlegel said, regarding how the Fourth Amendment might apply in the future.
Ducote argued that privacy is based on something much more elemental than cell tower pings, applications permissions and smartphone passcodes.
"Privacy is the right to be left alone," Ducote said. "The standard of 'unreasonableness' is where the rub is going to be. Is this reasonable or unreasonable? How important is the information? How much are we willing to give up to keep a million people from being blown to pieces? That's going to be the key. What is the reasonableness of the intrusion?"
Laden with all our devices, do we even have a reasonable expectation of privacy anymore?
"What is reasonable? This country was started on over-meddling. We shouldn't forget that," Crain said.
The importance of the judicial and legislative branches mindfully executing their duties and the illegality of closed-door convictions in family court were also discussed. As was the fact that the Louisiana attorney general is a function of the executive branch and the district attorneys ranked within the judicial branch.
"Stay in your lane. Don't legislate from the bench. Every single case is a separation-of-powers issue," Liljeberg said, quoting Supreme Court Justice Brett Kavanaugh.
Ducote is the only non-judge in the race. He noted after the forum that longtime state Supreme Court Justices Pascal Calogero and John Baptiste Fournet had no prior experience as judges before their elections. Nationally, neither did U.S. Supreme Court Justice Byron White nor former Chief Justice William Rehnquist before their appointments.