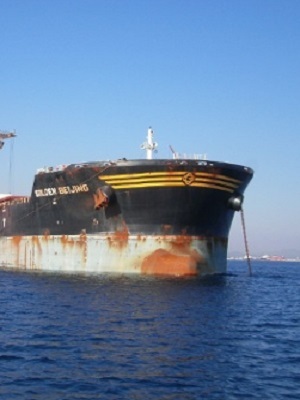 www.vesseltracker.com
The corporate owner of a cargo ship is suing a shipping company for losses experienced when the latter company allegedly failed to load the ship's cargo.
Pacific Bulk Cape Co. Ltd. filed a complaint July 6 in U.S. District Court for the Eastern District of Louisiana against Refined Success Ltd.
On Oct. 31, 2014, the lawsuit states, Pacific Bulk Cape, which owns the trade vessel Golden Beijing, entered into an agreement with Refined Success. The defendant agreed, via maritime contract, to load by year's end a cargo of iron ore, which Pacific Bulk Cape was to transport from Pepel, Sierra Leone, to four locations in China.
The plaintiff sent the defendant a notice of readiness on Nov. 28, 2014, but no cargo was loaded during the entire month of December, the lawsuit states.
This alleged failure to load, the lawsuit states, amounted to "demurrage" damages of $40,000 per day, totaling $1,025,378, which the defendant has failed to pay, as well as the $2,679,485 in losses Pacific Bulk Cape incurred for the defendant's alleged breach of contract.
Adding in interest, court costs and attorneys' fees, the plaintiff seeks damages of $4,900,436.
Since the defendant is allegedly difficult to contact, the lawsuit states, the plaintiff has received $1,171,596 in partial security but it asks the court to demand additional security from the defendant's known property in the area totaling in value $3,728,840.
The plaintiff is represented by attorneys George A. Gaitas of Houston and George M. Chalos of Oyster Bay, N.Y.
U.S. District Court for the Eastern District of Louisiana case number 2:15-cv-02465-EEF-KWR.