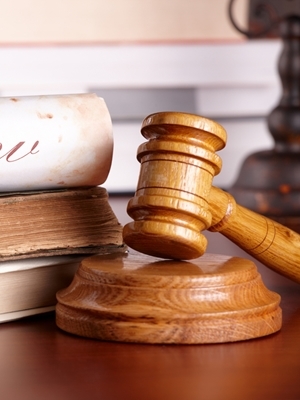 BATON ROUGE – An Ascension Parish man is suing a local judge in federal court over conviction fees, alleging it is a conflict of interest partly because a portion of the judge's pay comes out of the fees.
Richard Williams filed a class-action complaint in U.S. District Court Middle District of Louisiana on April 19 against Ascension Parish Court Judge Marilyn M. Lambert. Also named in the complaint were Court Clerk Bridget Hanna, Ascension Parish Sheriff Jeffrey Wiley and Gonzales Police Chief Sherman Jackson.
Williams and his attorneys, Katharine Murphy Schwartzmann and Eric Andrew Foley of the MacArthur Justice Center, brought the action against Lambert and the other defendants after he was cited by an Ascension Parish Sheriff's deputy for a barking dog violation. Williams already has been convicted of two barking dog offenses and is currently on probation. His arraignment on the latest citation was held on Feb. 2 and a trial date originally was set for April 20, but was rescheduled for July 20.
Williams' complaint contends that he cannot receive an impartial judgment from Lambert, as the conviction fee interferes with due process and is a conflict of interest. The U.S. District Court filing asks for class-action status on behalf of all residents of Ascension Parish.
Lambert is the only judge on the Ascension Parish Court. Defendants convicted in her court are assessed a conviction fee of up to $15 in addition to any other fines or fees assessed by the court. The conviction fees are deposited into the judicial expense fund. Lambert controls that fund and disburses the monies as she sees fit, including paying $35,684 of her $146,584.80 annual salary, plus her car stipend and retirement fund.
"…federal courts have long held that it's a violation of due process for a defendant to appear before a judge who has a financial incentive to convict him or her," Foley told the Louisiana Record. "That financial incentive can create a personal conflict of interest—in the case where a judge's compensation is tied to convictions—or what's known as a structural conflict of interest—where a judge has executive control over a source of money that depends on her convicting people."
Lambert hears a variety of misdemeanor offenses, traffic citations and civil disputes. Conviction fees from the parish court added $136,480 to the judicial expense fund last fiscal year.
"Keep in mind that this court's jurisdiction is solely over misdemeanors," Foley said. "Many of the convictions we're talking about are minor infractions (driving without a seatbelt, speeding, barking dogs, disturbing the peace, etc.) that already carry disproportionately large fines. The addition of another fee on top of that fine can be a significant burden on low-income people."
A decision in Williams' favor in U.S. District Court would determine that the state law mandating conviction fees unconstitutional. Foley said it would also "…prevent the sheriff, the police chief of Gonzales and the clerk of the Ascension Parish Court from collecting the fee from defendants."